2018 Concerts
EVENT: ROMA E BELLA
We have a mini concert tour performing sacred music in selected churches in Rome
We will also participate in events commemorating the centenary of the armistice which marked the end of hostilities in 1918 of the First World War.
DATE: 3rd April to 8th April
VENUES AND DETAILS - click here
---
EVENT: Beaumaris Festival 2018
DATE: 26th May
VENUE: The Beaumaris Leisure Centre
TIME: 19.30hrs
We will be performing the closing Concert on the Saturday evening to celebrate 'Women in The Arts'.
---
EVENT: Sirenian Singers Gala Anniversary concert
DATE: 9TH JUNE 2018
VENUE: St Giles Parish Church Wrexham
TIME: 19.30HRS
REPERTOIRE: Mozart Requiem with the Cambrian Orchestra, Leader Mark Lansom. featuring renowned sopranp Fflur Wyn, Oliver Sammons,Baritone, Andrew Powis,Tenor, Chloe Pardoe, Mezzo.
The repertoire will include music by Handel, Rachmaninoff, Mascagni, Mathias and Moses Hogan.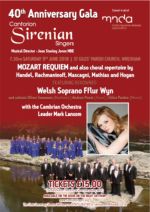 Click here for more information

TICKETS: £15.00, children free if accompanied by a paying adult. Tickets available from sirenians@hotmail.co.uk or on the door on the night,or Click here to buy tickets online
ALL PROFIT WILL BE DONATED TO THE MOTOR NEURONE DISEASE ASSOCIATION.
---
EVENT: Private Wedding Buckley
Date 28th July